Red Hawk is a fully automated Forex EA that is sold on the MQL5 website. It was launched on 12 October 2020 and has separate versions for Metatrader 4 and 5 platforms. According to the vendor, it has a real-time track record of several months of trading with low drawdown. This is something we need to verify at our end, however.
The developer behind Red Hawk is a person called Wim Schrynemakers, who is based in Malta. There is not much information available on this person, except for the fact that they work for Profalgo Limited. We don't know anything about the company's history or year of foundation, so from a vendor transparency standpoint, we are not too impressed.
This developer has built systems like Night Owl, Advanced Scalper, Gecko, AutoGenEA, Grid King Lite, etc. On the MQL5 page, they have shared the screenshots of the backtesting results and provided the link to a demo account showing live results.
Red Hawk at a Glance
| | |
| --- | --- |
| Price | $299 |
| Trading Platforms | MT4, MT5 |
| Currency Pairs | EURUSD, GBPUSD, USDCHF, EURCHF, EURGBP, AUDCAD, AUDJPY, EURAUD, USDCAD |
| Strategy | Mean Reversion |
| Timeframe | M5 |
| Recommended Deposit | N/A |
| Recommended Leverage | N/A |
| Money Management | No |
Red Hawk Functionality
For each trade, Red Haw uses a take profit and a stop loss. While the vendor claims that the EA maximizes profits and minimizes losses by using multiple trailing stop loss techniques, this is something that demands further investigation. It avoids using trading strategies like Martingale and Grid.
The robot has various internal filters, so it does not trade in hectic markets or one where the spreads are too big. According to the vendor, you should not use this EA during major news days. You first need to run it on an M5 chart for a particular currency pair and choose your risk setting.
In case the broker uses a different GMT offset, then you need to change the parameter settings yourself. This robot uses a fixed lot size of 0.01, however, you can modify the StartLots parameter to change this. Alternatively, you can use an automatic lot size based on risk or balance.
Red Hawk Trading Strategy Tests
Red hawk follows a Mean Reversion strategy that is based on the principle that prices return toward the average after a drastic shift. This is a trading scheme popular with swing traders, but the vendor has not explicitly mentioned it. We don't have any further information on the trading strategy, so we don't know whether the EA uses any additional indicators and such.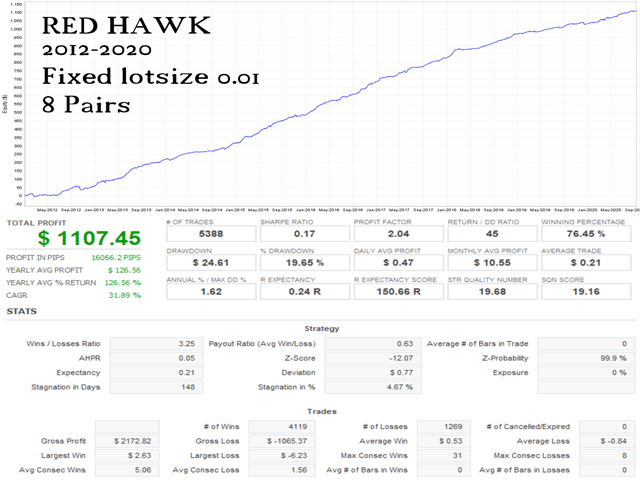 Here we have the results for a backtest conducted between 2012 and 2020 with fixed lot size. The EA placed 5388 trades during this test, winning 76.45% out of them. It generated a total profit of $1107.45 and achieved a yearly average return of 126.56%. The daily and monthly average profits were $0.47 and $10.55, which is nothing exceptional.
We can see that the average loss exceeds the average profit and the drawdown is 19.65%. The profit factor for this backtest was 2.04.
What About Red Hawk Live Trading Results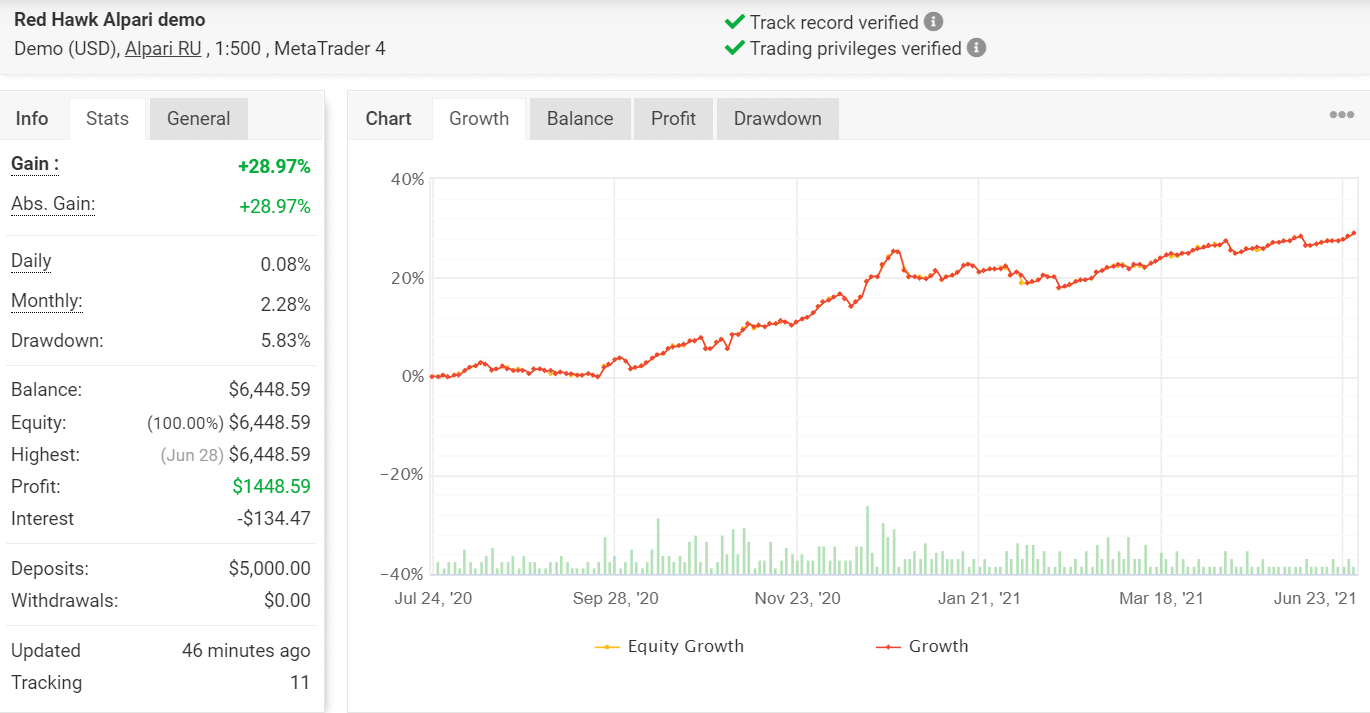 This is a Demo trading account for Red Hawk on the Myfxbook website. The vendor did not provide the link for this account on the MQL5 website, and we found this after conducting our own research. A total of 413 trades have been placed through this account to date, out of which the EA has won 298. The win rate of 72% is slightly lower compared to the backtest.
The daily and monthly profits are 0.08% and 2.28%, respectively, while the total profit is $1448.59. From the trading history, we can see that the EA is only able to extract small profits from each trade.
User Reviews

The user reviews on the MQL5 website cannot be considered genuine. This robot has no authentic customer reviews posted on trusted third-party websites, which indicates a lack of reputation.
Red Hawk Review Summary
Verdict
At the end of our review, we have reached the verdict that Red Hawk is not a reliable EA. We don't have the trading results available for a real account, and even the demo account performance does not look too impressive.
At the end of our review, we have reached the verdict that Red Hawk is not a reliable EA. We don't have the trading results available for a real account, and even the demo account performance does not look too impressive.
Red Hawk does not have any high-end features, unlike other expert advisors.

The mean reversion strategy is only good for winning small profits over time.

Live statistics are only available for a demo account, and the performance is not exceptional

The only way to seek support is to contact the vendor through the MQL5 website.

There are no verified user reviews for this Forex EA.
The Good
Trades in 9 different pairs
The Bad
No trading results for real account
No money-back guarantee
Lack of vendor transparency