V12 Trading purports to offer the best trading signals out there. It promises to ensure that you are among the top 5% of traders who succeed in Forex trading. You don't need to be experienced in trading to join the service because V12 Trading will assist you with all the basics and do all the hard work for you. So, your main job is to copy the signals provided to your MT4 account, sit back, and relax as the money rolls in. Sounds great, right? Even then, you need to be cautious with such a service by determining if it can deliver on its promise first. We are here to help you do just that.
The vendor of this service is anonymous. The identity of the company and the development team are kept under wraps, which is suspicious. However, there are claims that the team consists of experts in Forex currency trading with 8+ years of experience. We can neither verify nor deny these assertions since there is no solid evidence to back them up.
V12 Trading at a glance
| | |
| --- | --- |
| Price | €49, €119, or €349 |
| Trading platforms | MT4 |
| Currency pairs | N/A |
| Strategy | Pip locking |
| Timeframe | N/A |
| Recommended deposit | €250 |
| Recommended leverage | N/A |
| Money management | Yes |
V12 Trading functionality
These are the other features you will find on the platform:
4-12 signals daily.
The signals can be used to trade in Forex, Gold, Indices, and crypto markets.
Forex trading signals are sent to your phone through the Telegram app in real time.
SL and TP levels are included.
It promises to deliver 2000+ pips monthly to your account.
A free signal service is available.
V12 Trading trading strategy tests
The professionals behind this service apply the pip locking strategy. This involves moving the stop loss as trading progresses. Therefore, when TP1 is reached, the SL is moved to break even.
There are no backtest results. This makes it hard to determine how the signals would have behaved under the past market conditions and consequently forecast their future performance.
What about V12 Trading real trading results
Live trading results are missing as well. The importance of this data cannot be emphasized enough. It would normally provide proof of the amount of profits and losses these signals make. This way, a trader can make an informed decision on whether to subscribe to the service or not.
Customer reviews
V12 Trading has a bunch of mixed reviews on Trustpilot, but most of them are positive. According to some of the satisfied clients, the service is consistent, highly accurate, and generates a good risk/reward ratio. Still, there's a trader who labels the service a scam. He suggests that the signals provided are inefficient as they made him lose almost 10% of his capital within a week of trading.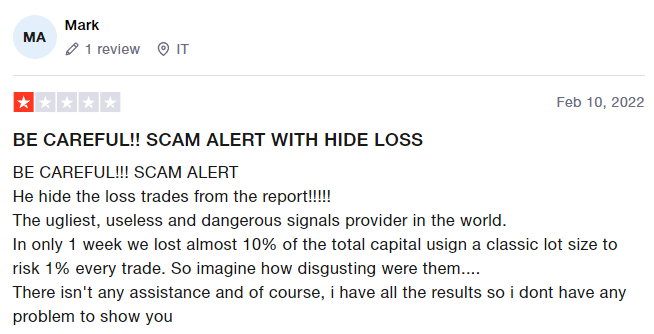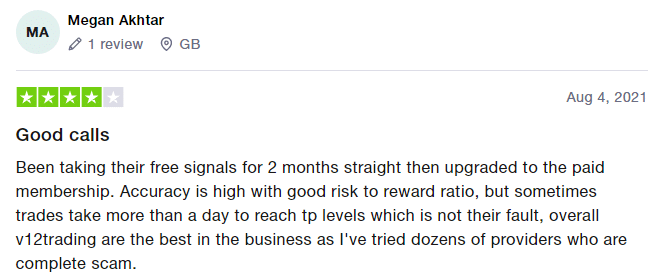 V12 Trading Review Summary
V12 Trading
V12 Trading offers a free signal service, so you can test its efficiency first before you go all in and invest real money in the service. Even though many customers say that the signals provided are accurate and profitable, we have no way of verifying this. This is mainly because the service's live trading and backtest results are missing.
The features of the service are mentioned, enabling users to be aware of what they are buying.

There is a brief description of the strategy the team uses to generate signals for users.

The vendor has not shared the live trading results of the service, which makes it hard to gauge its efficiency.

Customer support may only be available through Telegram.

Customers appear to be content with the services provided by this vendor as evidenced by the positive reviews they have given it.
The Good
Free signals are provided
Positive customer feedback
The Bad
Live trading results are not presented
Lack of backtest data
Limited customer support options